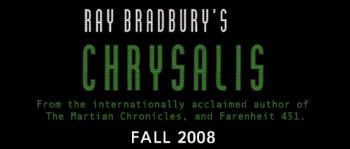 On Saturday July 26th Ray Bradbury will be making a special appearance at the 2008 edition of San Diego Comic Con.
Fans in attendance will be the first to see the new trailer for Urban Archipelago Films' feature length adaptation for Ray Bradbury's CHRYSALIS.
Immediately after the Comic Con presentation the new official site for the film will go live with exclusive Bradbury content including a series of web docs chronicling the film's production.
Fans can also catch exclusive interviews with the cast and filmmakers directly from Comic Con via Slice of Sci-Fi airing throughout the weekend on XM Satellite radio and available online at www.sliceofscifi.com
The countdown to Comic Con 2008 has begun at www.chrysalismovie.net
Also join the fan community at www.myspace.com/chrysalism
ovie